So the 2013 season is almost upon us and us F1 fans are gearing up for potentially a very exciting season, this post will update you on the rule changes, team changes, and my personal view on the battle for supremacy.
The Rules
2013 is a season of evolution rather than revolution. The 2014 season is hotly anticipated with V6 "green" engines, and a raft of aerodynamic changes. In comparison 2013 sees little change, and should, hopefully create tight racing as a result. However there are still a few changes. Firstly DDRS (double DRS) has been banned, although already teams are working round this with "passive" DRS systems. Secondly vanity panels have been allowed, this enables teams to get rid of the ugly stepped noses of last year with a thin piece of carbon fibre, most teams have made use of this. Thirdly DRS usage has been limited to only the DRS zones, instead of previously allowing cars to use it all circuit round in practice and qualifying. There are other rules, however they are more technical than this blogger likes to go. As a side note, as Pirelli did last year, the 2012 medium tyre is becoming this years hard, to prevent teams moving towards long pit strategies. There are also new colours for the tyres - red for super-soft, yellow for soft, white for medium and silver for hard.
Driver and Team Changes
This year will only feature 11 teams, due to the withdrawal of Hispania at the end of last year. There are rumours of a potential 12th team for 2014, but for the moment that is all they are, rumours.
The main moves of the driver market are as follows:
Lewis Hamilton to Mercedes has undoubtedly the created the most excitement amongst fans and pundits alike. Whether Mercedes can give him the car to challenge is the real question. He replaces retired 7-time world champion Michael Schumacher.
Sergio Perez has moved to replace him at McLaren, mid-season when this was announced it seemed a good move after 3 podiums for the Mexican. However no points since the announcement leaves questions to be answered.
It's all change at Sauber, with Perez moving to McLaren, Sauber also decided to ditch the attacking Kamui Kobayashi. 2013 will see Nico Hulkenberg lead the team, after a move from rivals Force India, and he will partner rookie Esteban Gutierrez, following his third place in GP2 last year.
Force India's replacement for Hulkenberg is their ex-driver Adrian Sutil, after beating Jules Bianchi in a shootout to be di Resta's team mate.
Valteri Bottas was always likely to drive for Williams this season following lots of drives in practice sessions, Williams choosing to axe consistent pointscorer Bruno Senna rather than the faster but more erratic Maldonado.
It's also all change at Caterham, where Charles Pic joins from Marussia after an impressive debut season. Joining him is enthusiastic Giedo van der Garde, after many years as test driver for Super Aguri, Spyker and Caterham. These two replace the likeable pair of Heikki Kovalainen and Vitaly Petrov.
Finally Marussia have also moved for youth, Pic departing for Caterham and Timo Glock's departure has created two seats. Wealthy Brit Max Chilton has been confirmed for a while, it was thought he would partner Luiz Razia, but his sponsor's failure to raise the money they promised enabled rookie Jules Bianchi to take the seat at the last moment, potentially bringing Ferrari engines for 2014.
Team Previews
Red Bull
Three constructors titles on the trot, three drivers titles on the trot, surely Red Bull are overwhelming favourites? Amazingly not, due to little regulation change Newey can't work his magic as well as normal with the car, and last season McLaren arguably had the faster car. Despite this they will definitely be up the front and as normal hid their pace in pre-season. With Sebastian Vettel and Mark Webber at the helm they can claim to have the strongest driver line up, and will hope to show it. It's likely that the alternator will not plague them as much as it did last season, so combining Vettel's speed, Newey's design and reliability should prove a fearsome connection.
Predictions:
WCC: 1st
Vettel: 2nd
Webber: 6th
Ferrari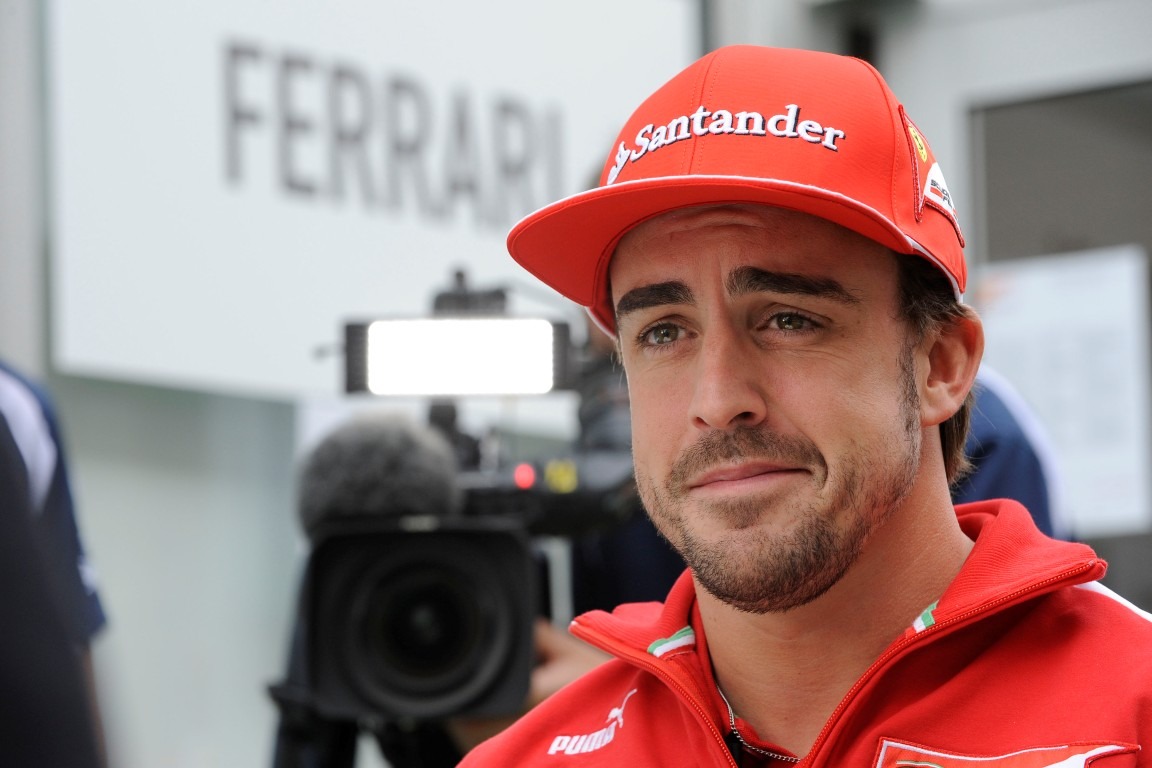 Fernando Alonso
After building an awful car for the beginning of 2012, Ferrari developed well and kept the majestic Fernando Alonso in with a chance until the very end. They built arguably the 4th best car, and were lucky to have Alonso taking an opportunistic win in Malaysia before giving the ability to fight Red Bull. This season they begin on a much more stable footing, and should be a threat all season. The resurgence of Felipe Massa hopefully means a return to form of the 2008 runner up. The test driver signing of Pedro de la Rosa to improve their simulator is potentially crucial, and with a fully operational wind tunnel there will be no excuses for Stefano Domenicali this year, and they have to compete.
Predictions:
WCC: 2nd
Alonso: 1st
Massa: 8th
McLaren
McLaren will view 2012 as a disappointment. With 6 wins split between two World Champions they should have been challenging for both titles, instead they came 3rd in the constructors and 4th and 5th in the drivers. Poor reliability cost Lewis Hamilton many a point, and Jenson Button's mid-season disaster proved to be the end of their hopes. This will be particularly bitter as they probably had the fastest car for the majority of the season. This season they are almost certainly weaker as a result of Hamilton's departure and much will be expected of Sergio Perez. Despite all this, McLaren nearly always build a race-winning car and in
Button they have a former world champion so they should still challenge.
Predictions:
WCC: 4th
Button: 3rd
Perez: 10th
Lotus
The surprise package of 2012 will look to this season as a chance for more wins. The 2012 season proved to be a great one for the ex-Renault team, the hiring of ex-Champion Kimi Raikkonen proved a masterstroke, delivering performances, comedy and an ice-cool demeanour all at once. Alongside him sits the very quick Romain Grosjean, who gained a reputation as a crasher, but as I mention in previous posts, he will lose this when he shows his race-winning potential he demonstrated in Bahrain and Valencia last season. They should continue to impress this season.
Predictions:
WCC: 3rd
Raikkonen: 4th
Grosjean: 7th
Mercedes:
A team that has a lot to deliver in 2013. After finally making the breakthrough in China for their first win it looked like 2012 could be their year, however they didn't fulfil that potential and struggled to keep up with development. Mercedes have acted decisively, out go Schumacher, Haug and in come Hamilton, Lauda and for next year Paddy Lowe, meaning even Ross Brawn's place is under threat. The capture of Lewis Hamilton has undoubtedly risen spirits at Mercedes, who can now claim to have one of the "big three" (the other two being Vettel and Alonso). However, I think 2013 will not be their year, but they could be a big threat in 2014.
Predictions:
WCC: 5th
Rosberg: 9th
Hamilton: 5th
Sauber
Esteban Gutierrez
Sauber's four podiums in 2012 gives them reason for encouragement for this season. Perez proved on three occasion that the car was ready to challenge for wins, while Kobayashi took an emotional podium in Japan. This has enabled them to poach the highly-rated Nico Hulkenberg from rivals Force India. Led by F1's only female team principal Monisha Kaltenborn, Sauber will feel they have a good chance at more podiums this year. Lots is expected of rookie Esteban Gutierrez, who brings with him significant sponsorship, but also a speed, his performance could be crucial in the midfield battle this season.
Predictions:
WCC: 7th
Hulkenberg: 11th
Gutierrez: 16th
Force India
Despite a record points haul for the Silverstone based team, they dropped behind Sauber in the constructors, highlighting how tight in the midfield. A very up and down 2012 with the highlight being Hulkenberg's excellent drive in Brazil, they will hope for more consistency this year. However, there may be problems behind the scenes as both team owner Vijay Mallya and major sponsors Sahara have financial issues, although they insist it doesn't effect the team. Despite this, both Jules Bianchi and Adrian Sutil had to show they had large sponsorship to give them a shot at driving for them, Sutil winning the shoot-out. This is also a crucial season for Paul di Resta, who, despite talking himself up, hasn't beaten a team-mate yet.
Predictions:
WCC: 8th
di Resta: 15th
Sutil: 14th
Williams
Valtteri Bottas
Williams finally a win drought in 2012 that stretched back to the great Juan Pablo Montoya in 2004. Back then it was unthinkable that it would be 8 years before their next victory, F1's third most successful team. In 2012 Williams finally built another quality car. Unfortunately it wasn't properly exploited by their drivers. Maldonado took a brilliant win in Spain, but was involved in too many crashes, and finished in the points only 5 times. By contrast his team-mate finished in the points 10 times, but it was only enough for 8th in the constructors championship. Williams have kept the erratic Maldonado (and his huge Venezuelan backing) and have brought in exciting Finn Valtteri Bottas. After impressing in Friday practices, this is his chance to make a mark. I think Williams will build another good car, but how well it is driven is another question.
Predictions:
WCC: 6th
Maldonado: 13th
Bottas: 12th
Toro Rosso
This is Toro Rosso's second season with drivers Ricciardo and Vergne, and judging by the way he handled their predecessors Buemi and Algeursuari, you feel they have to do well this season. Ricciardo generally impressed more in 2012, but Vergne scored more points and some will argue that's all that counts. The arrival of James Key as technical director could see them move forward, but all too regularly they find themselves just off the midfield runners. Red Bull's sister team will hope that this year they can return to form this season, however I think they may struggle again, and look to 2014 earlier than most.
Predictions:
WCC: 9th
Vergne: 18th
Ricciardo: 17th
Caterham
Despite being referred to as "the new teams", Caterham are now entering their fourth season of F1, and look no closer to being in the points than before. Only a manic Brazilian GP and a stellar drive from Vitaly Petrov kept them in 10th place in the constructors, and that was with Marussia not having KERS. This season they have ditched Heikki Kovalainen and the aforementioned Petrov and signed Pic from Marussia, and Giedo van der Garde. Now had either of them been partnering Kovalainen you could argue it is a strong line-up. However they aren't and it's left to young Charles Pic to lead the team, a step to far in my opinion. The same regulations as last year should help them move closer to the pack, but the signs aren't looking good.
Predictions:
WCC: 11th
Pic: 20th
van der Garde: 21st
Marussia
Jules Bianchi
Despite the fact they once again finished behind Caterham last season, many pundits are predicting potentially good things from the ex-Virgin team. Having also ditched their experienced driver, Marussia's line-up are both rookies. Briton Max Chilton has been criticised by some of buying his way into F1. Indeed his GP2 record is average at best and his father owned the team, and is very wealthy. Despite this, other drivers have impressed despite average records, his predecessor Charles Pic an example, Kamui Kobayashi another. However, in my opinion the signing of Jules Bianchi is the crucial one. Heavily supported by Ferrari he was very close to the Force India seat, after impressing throughout his young career, along with KERS, Bianchi could prove the difference for 10th place, and may even score the team's first points.
Predictions:
WCC: 10th
Bianchi: 19th
Chilton: 22nd
Thanks for reading!