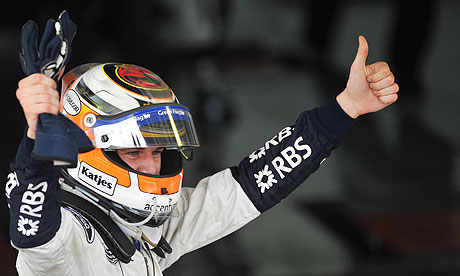 At 25, Hülkenberg may seem a bit of stretch to say he's the "next generation", especially considering he is only 1 month younger than double World Champion Sebastian Vettel, however Vettel is, in my opinion, the exception the rule that states drivers don't peak until they are late 20s-early 30s.
Nico had one of the most successful career progressions to F1 in recent history. He dominated the European Formula BMW in 2005, practically single-handedly won the A1 GP series for Germany, taking a staggering 9 wins in his rookie year. He moved to the German F3 series, finishing 5th earning a drive in the full F3 Euro Series. In 2007 he finished 5th, before comprehensively destroying the field in 2008 - taking almost double the points of the runner up. Other winners of this prestigious series include Lewis Hamilton and Paul di Resta, with Vettel finishing as a runner up. This obviously earned the attraction higher up the motor sport ladder, and he won a GP2 drive with ART GP.
A disappointing opening round was soon forgotten, as he became the first man in 3 years to win both the feature and sprint race, and became one of only two drivers to win every point on offer (two wins plus pole and fastest lap). He went on to dominate the series and wrapped up the title with a round to spare, and broke the 100 point barrier in the final round. He crushed team mate Pastor Maldanado 100-36, almost 3 times as many points, an astonishing feat considering he would eventually be replaced by Maldonado and Maldonado would in fact secure a F1 race win, something which has still eluded Hülkenberg.
In 2010, he produced a very solid rookie season, struggling at the beginning of the year he was matching and even beating his much more experienced team-mate Rubens Barrichello. The stand out moment of the year by a long way for Hülkenberg was obviously his outstanding pole position in Brazil, where he qualified over a second ahead of the man in 2nd. It was a stunning lap, and he was fast enough for pole in both of his laps - dismissing claims that he was only on pole due to clever timing. Despite this he was dropped for the much wealthier Maldonado.
A year of testing for Force India in 2011 won him the seat for this year at the expense of countryman Adrian Sutil. Again Hulkenberg started slowly, but since the European Grand Prix he has finished in the points 5 times, with memorable drives to 4th in Spa and most recently to 6th in Korea, where he also pulled off a remarkable double overtake on Hamilton and Grosjean. As things stand he is ahead of Paul di Resta by a point, but recent drives suggest he could extend that gap by the end of the season.
Rumours were Ferrari were interested in him for 2013, but stuck with Massa, and he looks to have secured a deal to Sauber for the next year, a potentially shrewd move considering Vijay Mallya's predicament. He should look to push on and potentially replace either Massa or move into Red Bull in 2014. A future winner? Most definitely. A future champion? In my opinion the sky is the limit for this boy.